Announcement:

Karl at Ellwein Engines will not be accepting new engine projects until the summer of 2019.

Beginning January 1, 2019, Karl will be concentrating on vehicle tuning. He will be available for hire to tune 93-97 LT1 and most LSx vehicles using EFI Live, HP Tuners and JET DST software. Street, Dyno and track tuning will be available.

Stand alone engine management calibration services will also be available for Holley, FuelTech, Mega and Micro Squirt.

Engine customers are welcome to be placed on the waiting list via email at Karl@EllweinEngines.com
---
ERE-383 LT1 Short Blocks
with Mahle pistons and
1.0/1.0/2.0mm ring pack
Flat top $5900

D-dish $5950
ERE-395 LT1 Short Blocks
with Mahle pistons and
1.0/1.0/2.0mm ring pack
Flat top $5900

D-dish $5950
Forced Induction
LT1 383/395ci Short Blocks with top ring .300" down
Wiseco pistons and Total Seal Chrome Nitride AP rings
383ci $5950

395ci $5950
ERE standard components:
Pistons: Premium Mahle/Wiseco
Crankshaft: Eagle or SCAT 4340 forged
Rods: Compstar 6" H-beam
Bearings: King HP series
Block: Milodon or ProGram splayed center mains
---
Budget LT1 Short Blocks
with Mahle pistons and
1.0/1.0/2.0mm ring pack
355 Flat top $3900

383 D-dish $3900
Budget LT1 components:
Pistons: Premium Mahle
Crankshaft: Eagle or SCAT Cast
Rods: SCAT I-beam
Bearings: King stock series
Block: Your core with stock mains
---
Have ERE rebuild your LT1
|$1900|
plus parts and machine work
---
ELLWEIN ENGINES HISTORY

LINK ERE/Golen-396#90 (rebuild)
LINK ERE-383#89
LINK ERE-396#88
LINK ERE-383#87 489hp/499tq
LINK ERE-383#86
LINK ERE-383#85 567hp/504tq
LINK ERE-383#84
LINK ERE-383#83
LINK ERE-383#82
LINK ERE-383#81 483hp/492tq
LINK ERE-353#80
LINK ERE-383#79
LINK ERE-383#78
LINK ERE-383#77 500hp/514tq
LINK ERE-383#76 513hp/487tq
LINK ESE-350#75
LINK ERE-383#74 516hp/524tq
LINK ERE-397#73 476hp/512tq
LINK ERE-383#72 541hp/546tq
LINK ERE-383#71
LINK ERE-383#70
LINK ERE-396#69
LINK ERE-355#68
LINK ERE-395#67 526hp/511tq
LINK ERE-355#66
LINK ERE-383#65
LINK ERE-BBC #64
LINK ERE-383#63
LINK ERE-395#62 646hp/578tq
LINK ESE-383#61
LINK ERE-383#60
LINK ERE-383#59 490hp/490tq
LINK ERE-383#58
LINK ERE-383#57 530hp/511tq
LINK ESE-383#56
LINK ESE-383#55 short block
LINK ERE-397 580hp/502tq
LINK ERE-385#53
LINK ERE-383#52 Rebuild
LINK ERE-396#51 Rebuild
LINK ERE-383#50
LINK ERE-383#49 553hp/475tq
LINK ERE-383#48A 514hp/506tq
LINK ERE-383#48 Rebuild
LINK ESE-383#47
LINK ERE-396#46
LINK ERE-383#45 500hp/527tq
LINK ESE-357#44
LINK ERE-396#43
LINK Donovan 436
LINK ESE-383#42 short block
LINK ERE-396#41 rebuild
LINK ESE-357#40 short block
LINK ERE-383#39 short block
LINK Ai/ERE-383#38
LINK Golen/ERE-385#37
LINK Ai/ERE-383#36
LINK ERE-383#35
LINK ESE-396#34
LINK ESE-383#33
LINK Ai/ERE-383#32
LINK ERE-383#31[dyno]
LINK Golen/ERE-396#30
LINK ERE-396#29
LINK ERE-383#3 Sale
LINK Ai/ERE-383#28
LINK Ai/ERE-383#27
LINK GES/ERE-383#26 The BTO special
LINK ERE-383#25 Short Block
LINK ERE-399 Signature 472 RWHP
LINK Ai/ERE-383#23
LINK King ERE-383#22 Short Block
LINK SK-396 Long Block inspection
LINK Ai/ERE-370#21 574hp/507tq
LINK to Dart/ERE-383#20
LINK to ERE-355#19 budget build
LINK to ERE-383#18 Short Block
LINK to Ai/ERE-383#17
LINK to Ai/ERE-396#16
LINK to Ai/ERE-383#15
LINK to Ai/ERE-408#14
LINK to Ai/KingERE-383#13 520hp/460tq
LINK to Ai/ERE-383#12
LINK to King ERE-383#11 Short Block
LINK to David Ralph's rebuild
LINK to ERE-383#10 Short Block
LINK to ERE-383#9 9.74@141 blower
LINK to ERE-383#8 CA emissions LT1
LINK to ERE-383#7 12.70@108motor
LINK to Dart/ERE-383#6 440hp/454tq
LINK to ERE-383#5
LINK to ERE-385#4 12.38@109motor
ERE-383#3 10.13@134 nitrous
ERE-383#2 10.67@126 nitrous
ESE-350#1 11.67@119 motor
---
Ellwein Engines was founded in 2006 and is an officially registered company in the state of Maryland. The company is one person, Karl Ellwein. Karl started building engines in 1998 as a hobby and finally became convinced to make a business out of it due to the encouragement of the late Lennart Bergqvist of AUTOSHOP Racing Engines. Many of the short block engine combos have been tested in Karl's personal street/strip Impala SS and strip only Impala SS Clone. Ellwein Engines is located in southern Maryland.
Contact Karl at 410-474-5579.
Ellwein Engines
550 Camp Conoy Road
Lusby, MD 20657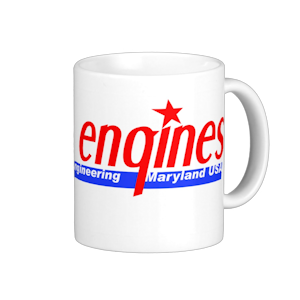 ---

Ai/ERE-383 Long Block testing on the engine dyno:
Right-click-save-target for video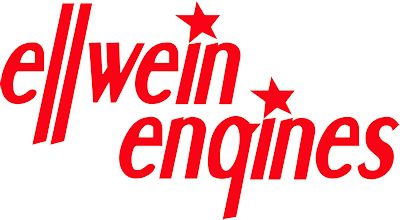 World wide shipping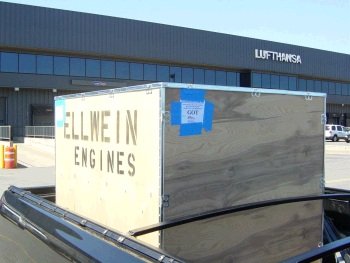 Dec. 2018
ERE-383 #87 on dyno


Oct. 2018
ERE-383 #81 on dyno

Sept. 2018:
ERE383 #65 at the drag strip
This is Karl's personal street/strip/road-race car

Feb. 2018:
ERE383 #85 on dyno
567hp/504tq


Nov. 2017:
ERE399 on dyno
475rwhp

July. 2017:
ERE383 #77 on dyno
500hp/514tq

July. 2017:
ERE383 #76 on dyno
513hp/487tq


Oct. 2016:
ERE383 #72 on dyno
541hp/546tq

June 2016:
ERE395 #67 on dyno
526hp/511tq


June 2016:
ERE383 #49 on dyno
553hp/475tq


December 2015:
ERE370 #21 pulls to 7000rpm
574hp/507tq

November 2015:
ERE395 #62 hits an all time dyno high
646hp/578tq




December 2014:
Video of ERE383 #48 on the engine dyno



June 2014:
Budget ESE383 #31 rolls
400+RWHP

July 2014:
Svend's ERE 396 #43 rolls
1008 rwhp @ 5750 rpm and
919 rwtq from 4300 to 5800 rpm

June 2014:
Kent Eden ERE383 #9 engine dyno
1125 chp @ 7200 & 34 psi boost.
885 ft-lb @ 6500 rpm
898 hp / 812 ft-lb / 22 psi average

More News:
The NEW Ellwein Engines logo plate from EFI Connection.



Aug. 2010: Ellwein Engines is now the proud sponsor of the 2010 USA tour of recording and performing artist Kania Tieffer (against the machine). See her New York City debut live performance Oct. 6th at
The Silent Barn
Kent Eden runs 9.74 @ 141mph with ERE-383 #9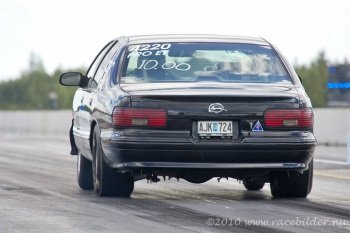 ---
See the Ellwein Engines 2008 Drag Racing tour of Sweden.
Ellwein Engines shipped a 95 Impala SS to Sweden for a drag racing "adventure" with [BOSTIC]. The car was de-tuned a bit in order to be reliable for long drives in the northern land of Sweden. Thank you goes out to my main sponsors AUTOSHOP, CPT, Ai, MME, Vindouro, FixSoren, Agneta, BOSTIC, Nordtrafik, BILSPORT, Stumpy, Nick, Lance and Car Craft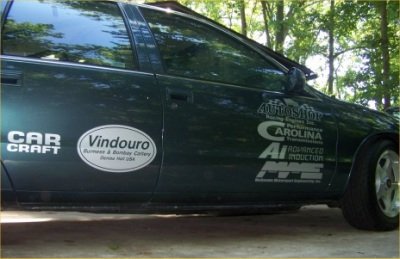 The 2008 Sweden trip is in the history books.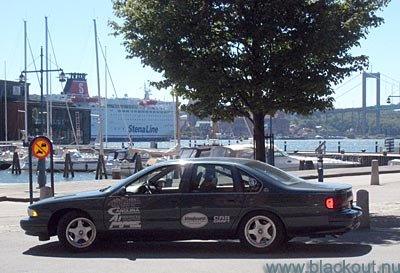 July 2nd 2008 Gothenburg Sweden! (thanks Sören "Fixarn" and Bostic)


July 11th at Pite Dragway Sweden. Kent checking sparkplugs on his Black Impala SS with ERE-383 and F2 Blower.
---